Booking management for any Holiday Rental Property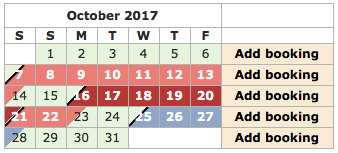 With our booking management system you can add, edit or delete a booking at any time - any changes are instantly reflected in the calendar display.
Our booking management also helps you keep control of your bookings by allowing you to enter contact details, payment record and any special requests or notes about a particular booking.
It fits in with the Availability Calendar by giving you the opportunity to fill in these details when you add a booking - so that not only does the Calendar show the period as booked, but there are fields available to enter details of the person booking and of the booking itself.
Keep your calendar synchronised with other calendars
You can sync your bookings with Airbnb, Homeaway etc. Our system enables you both to export your availability information to other systems and also import booking data into your calendar.
Easy access and printing of the booking details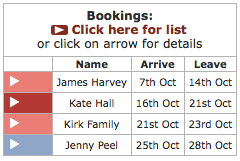 These details are easily accessed whenever you are logged on to your management system and the list of bookings, with names and dates is easily viewed and printed out, as is each individual booking with the full details you have entered.
You can also download your bookings in a format that can be opened in all popular spreadsheet programs.
This makes finding individual bookings, and administering your holiday accommodation convenient and easy.